Saturday in the sun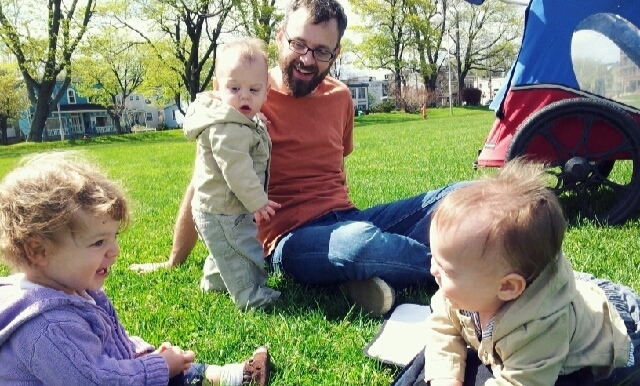 Sean and I took the kids to the commons while our wives were out at an all-day workshop. Unfortunately the boys aren't too keen on grass; something we need to fix before our first camping trip this summer.
In Love
Everyday Chris and I become more and more in love with these guys. Look at those faces.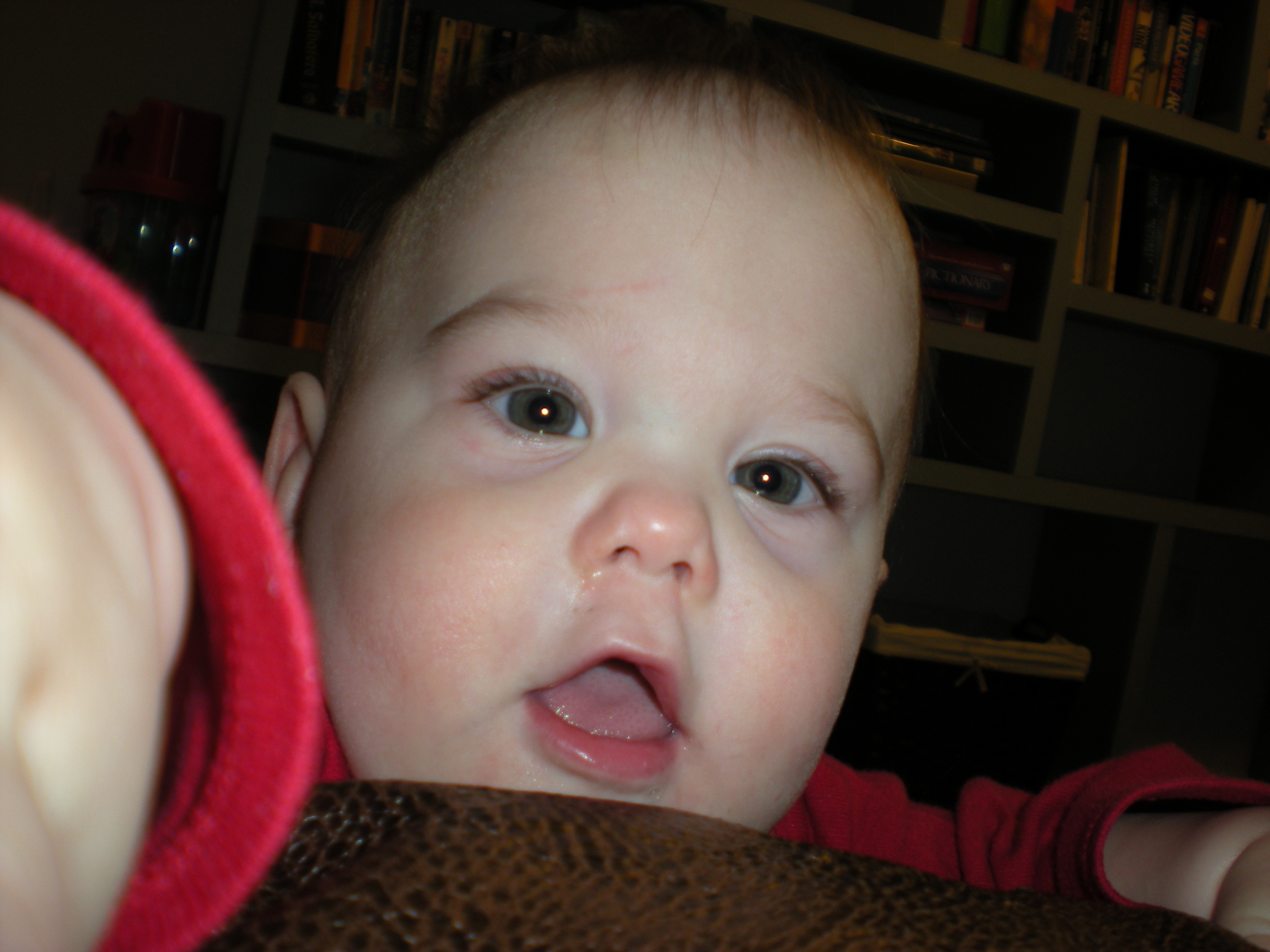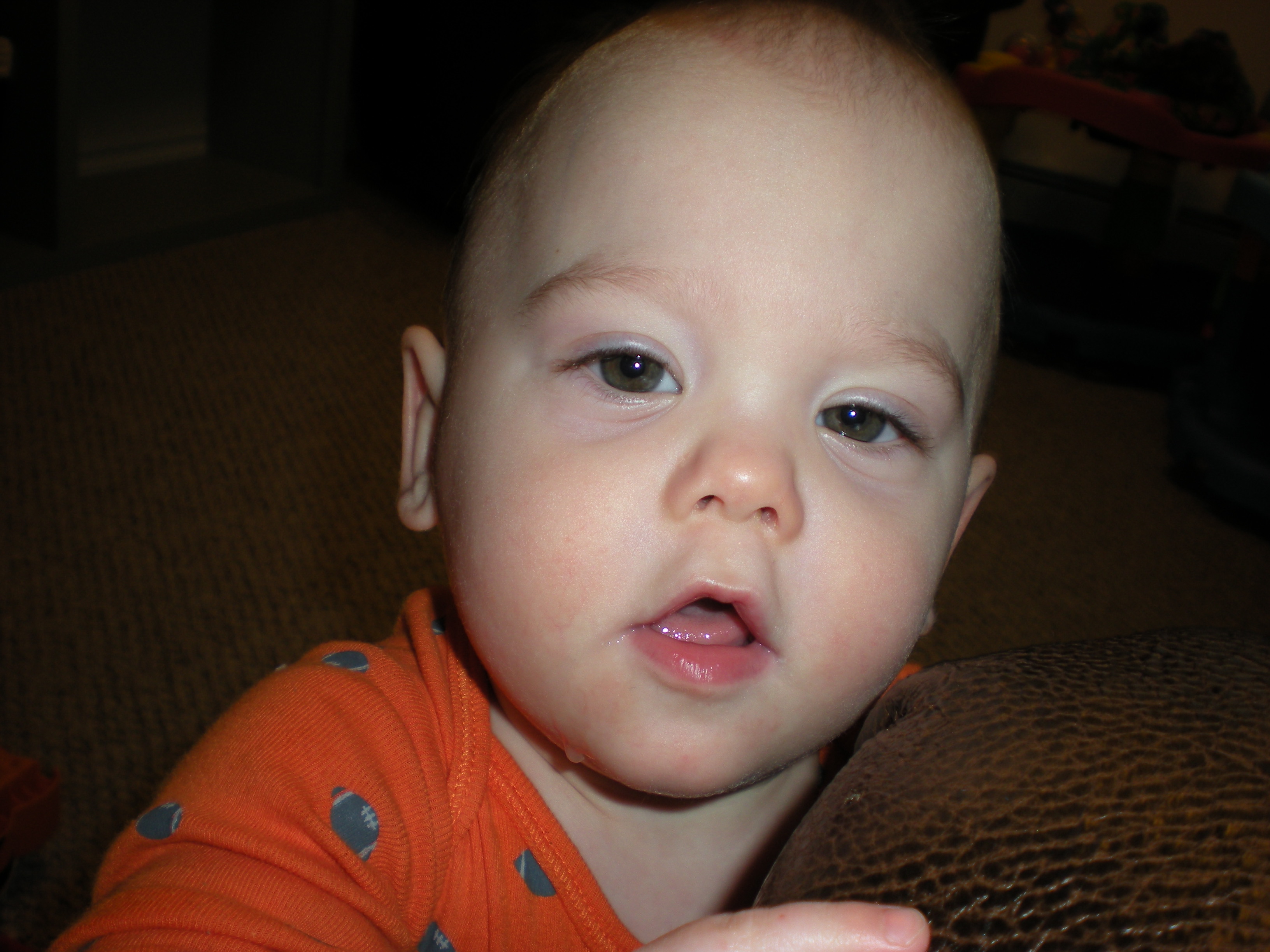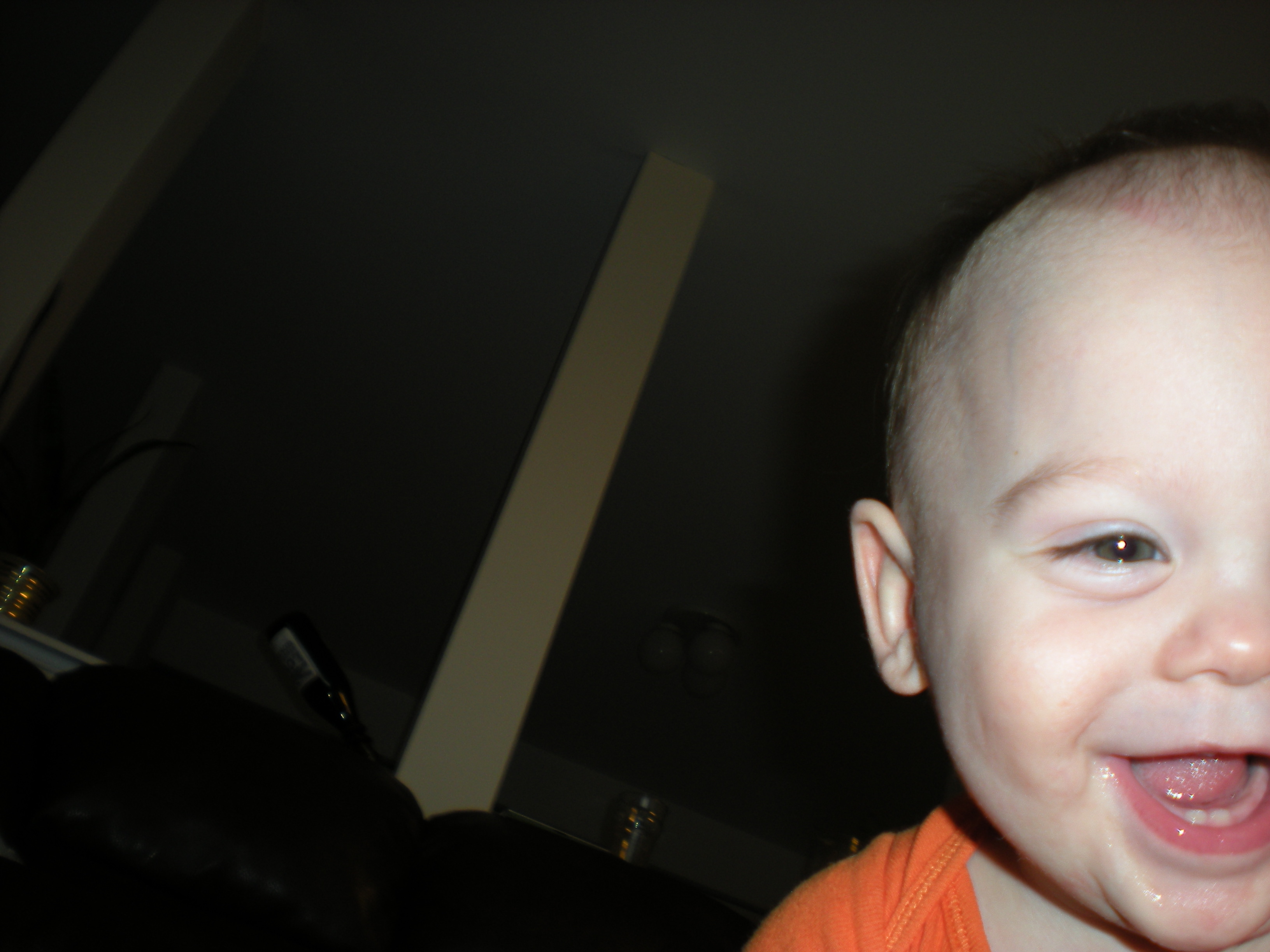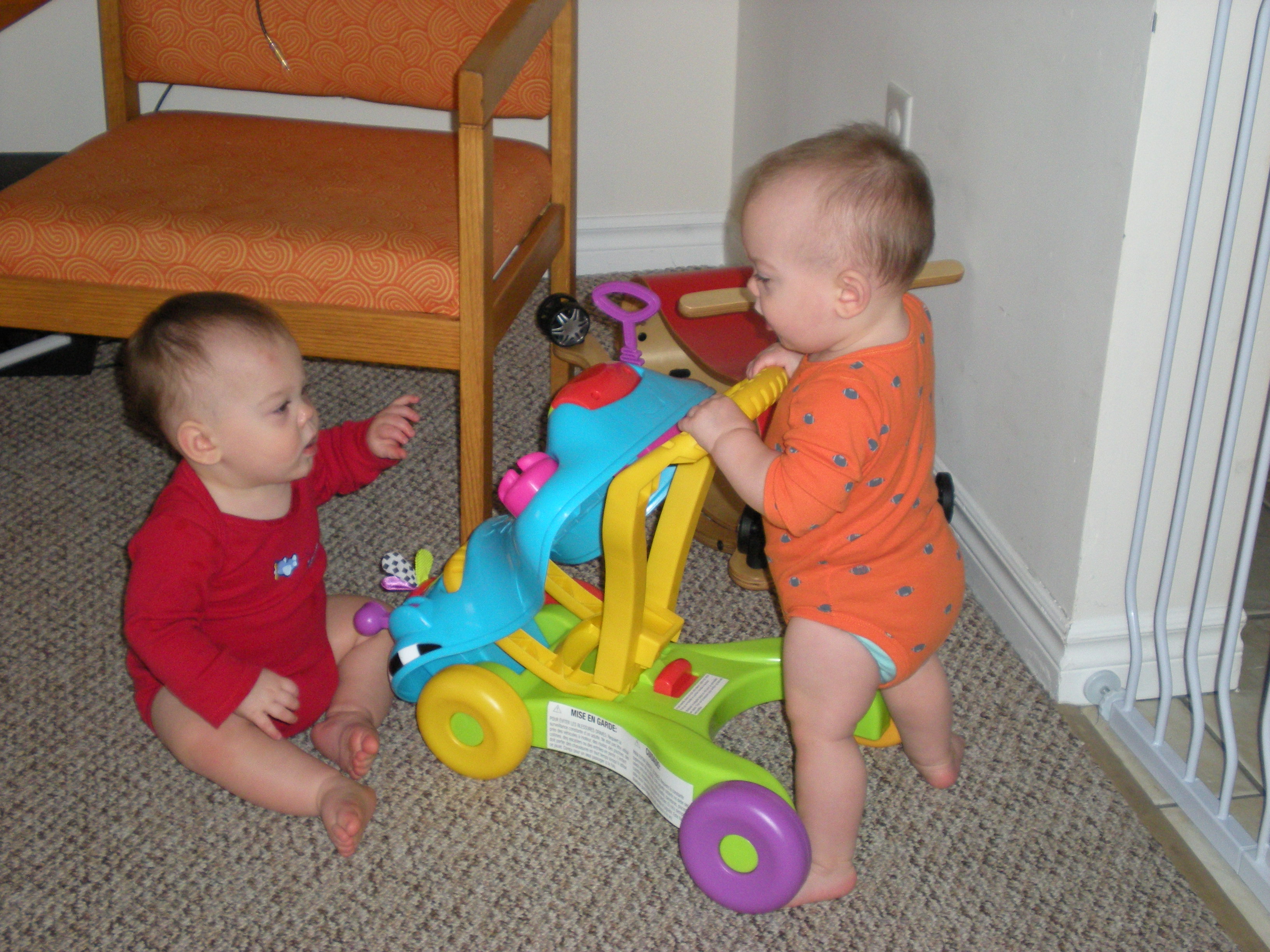 Try cooking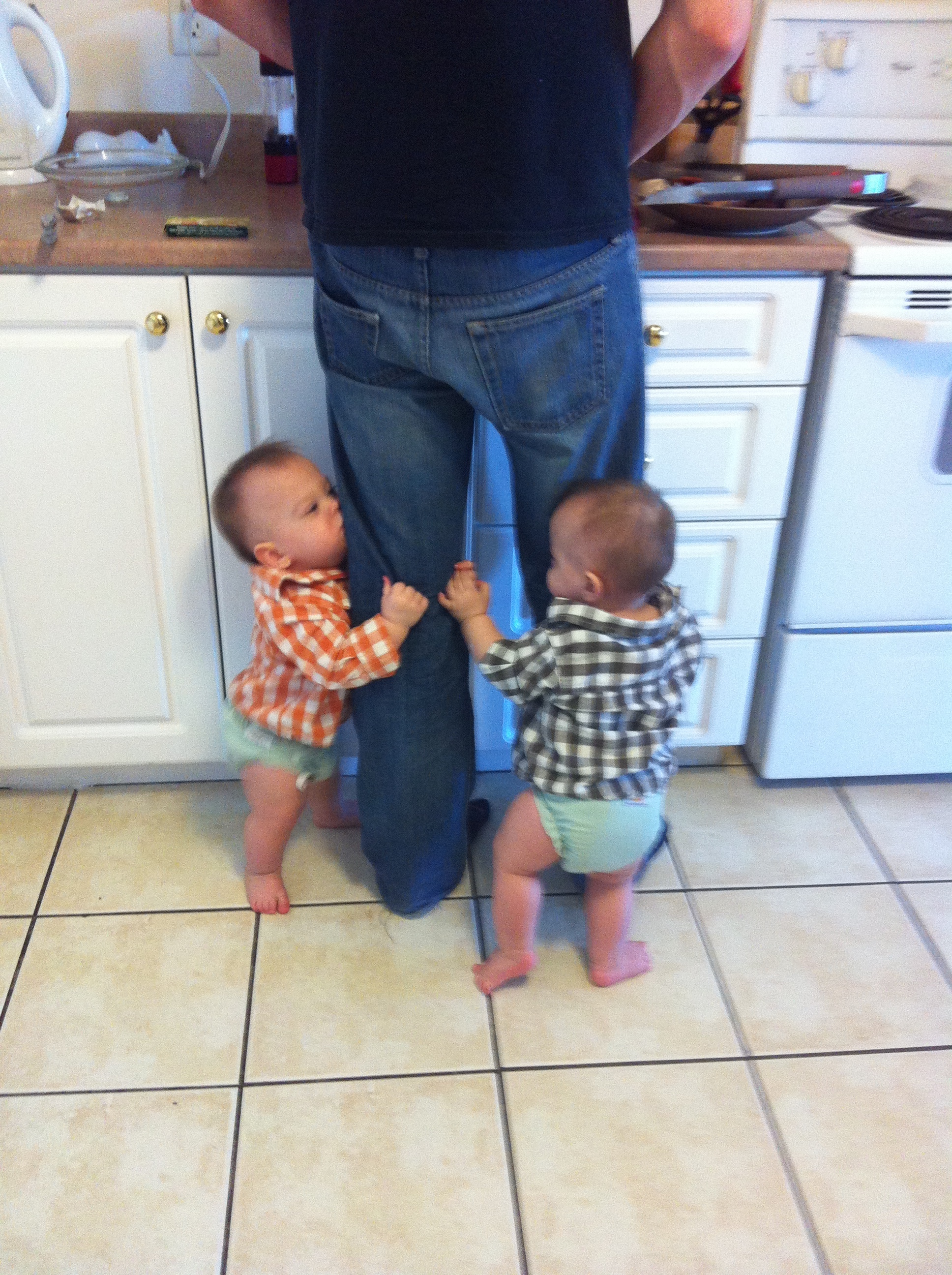 This is what it's like trying to cook when you have twins.
Happy Birthday
On their 1st birthday Lucas is hanging with his brother in the morning light.
Thanks to everyone that made it for their party and the awesome gifts. It's been a hell of a year but look at these goofballs now!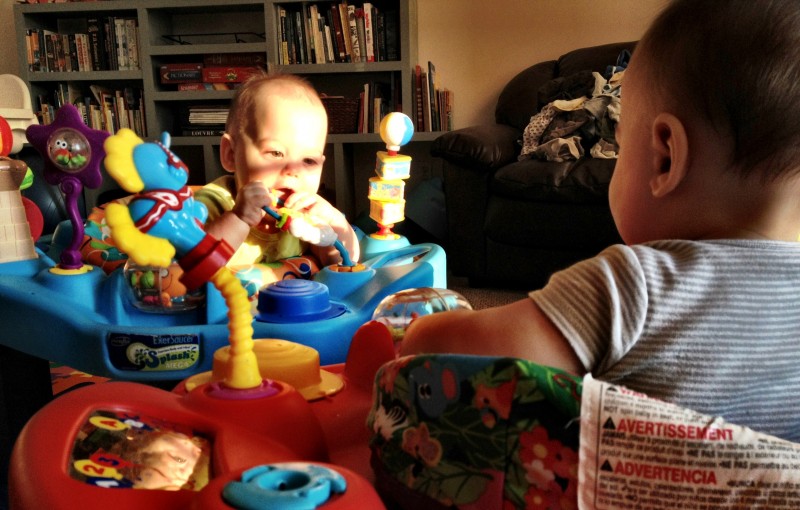 1st Birthday Party
Weekend Playdate
First off, I apologize for not having put in an entry sooner. I realize I haven't even put up photos of our trip to Uruguay or even let you know how it all went. Obviously, it went great cause we are alive, back, and into our routine. Lots of changes have occurred since returning. Both boys are crawling. Our lives have suddenly been filled with ideas for baby proofing, sayings such as "no, don't touch that", and bumps and bruises to the head. Anyways, I would like to post some pictures of the trip, some funny anecdotes, and my amazing packing list. Mostly for moms out there who ever decide to travel with 6 month olds rest assured this list is comprehensive. But its getting late and I need to go to bed, so more on that later. At the moment, I wanted to post pictures of our lovely weekend play date.
Our friend Lorenzo is OH so very cute! He is pretty much the same age as the boys and they all got along just great. Lolo shared his toys and the boys slobbered all over them. I foresee a future of many soccer games and birthdays! Lorenzo's dad, Rodrigo, is the only other Uruguayan I've met in Halifax. Christine, his mom, is from Cape Breton. Both are such wonderful people! Chris and I have truly enjoyed getting to know them. This past weekend they invited us over for tortas fritas and mate. Though the mate was too steaming hot for the boys, all three did enjoy a taste of the tortas fritas! Mmmmmm.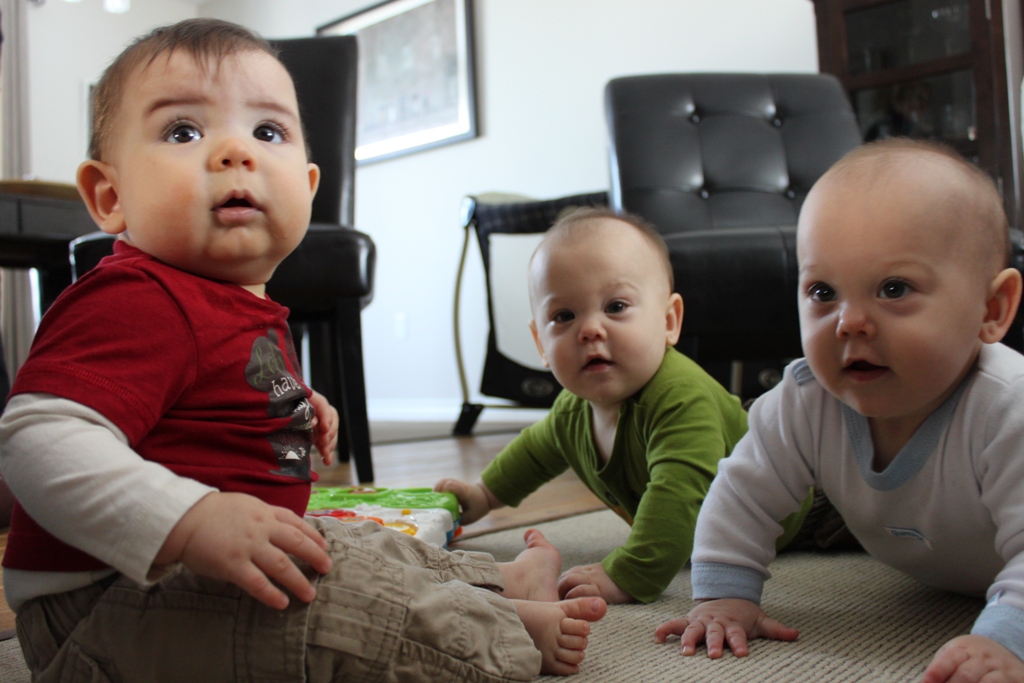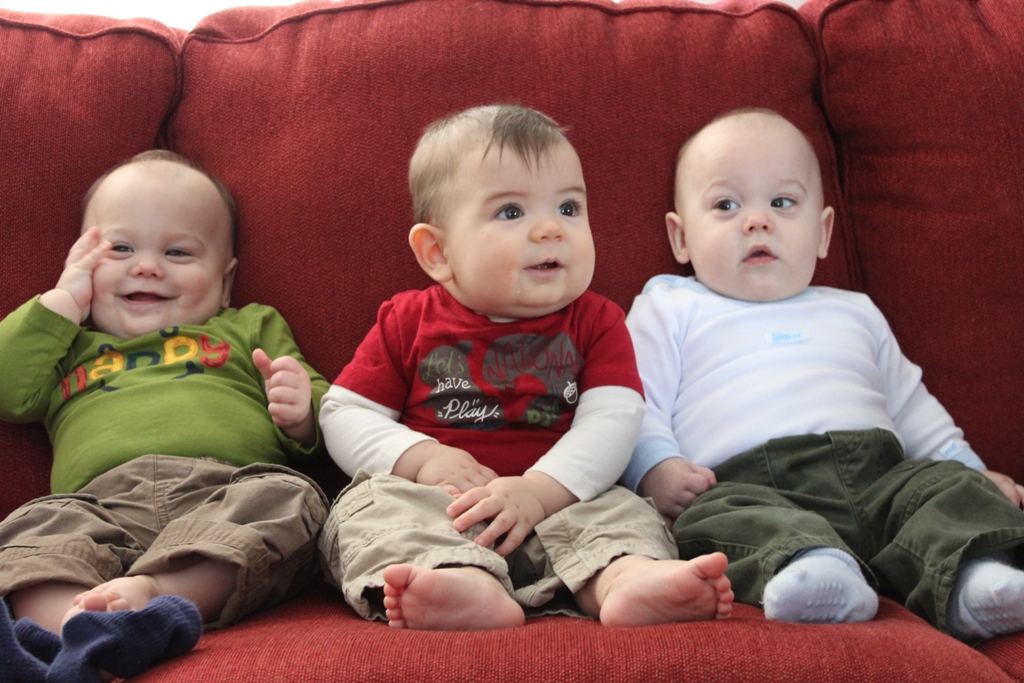 Christmas Spirit
Sebi on the left, Lucas on the right
Getting into the Christmas spirit this weekend we went to visit Harry and Pia wearing our finest Christmas attire.
As usual the boys were showered with love and gifts. Below are the boys with some cool new hats; though not too excited about playing dress up.
6 Months (corrected age) Follow Up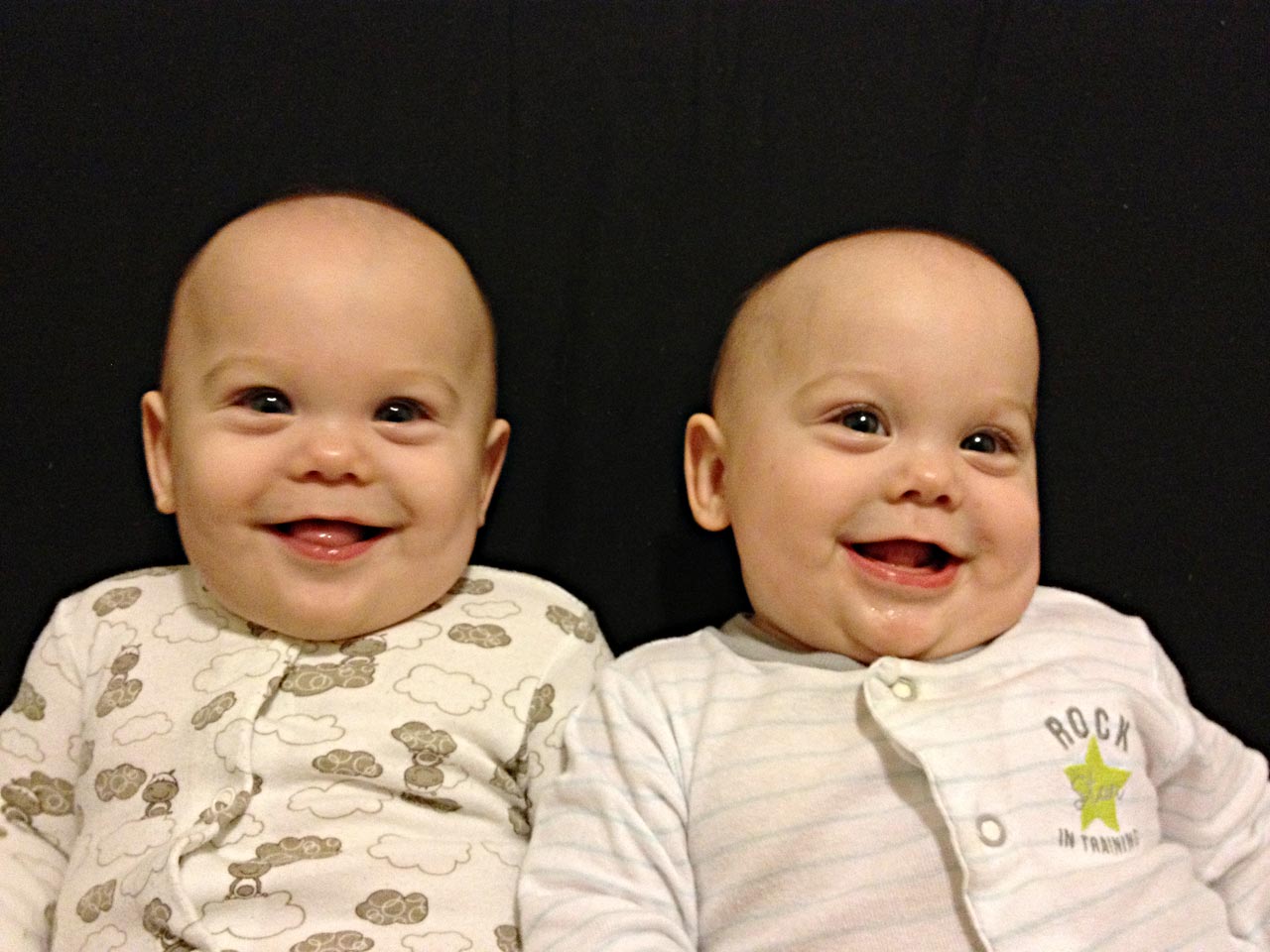 Sebastian-L and Lucas-R: Right before bedtime. Do they look sleepy to you?
Today was our six month assessment at the IWK. For being as premature as they were the boys qualified to be a part of the Follow Up Program up until the age of 3. So off we went today to speak with a nutritionist, physiotherapist and neonatologist. They put the boys through a barrage of test and assessments to get an idea of where they were with their development.
These guys are hard working dudes. Analia and I have always dismissed the idea of the boys being 'miracles' cause they have shown us repeatedly their strong will. Everyone was very pleased with their progress. Their development is pretty much on track with six month old full term babies, and even ahead in a couple skill areas. The physiotherapist remarked on their strength and coordination. The neonatalogist was very impressed with some of their cognitive skills as well. Turns out we wont need to come in for the 12 month assessment because of no concerns. The boys have worked very hard to get to where they are today, fighting from the very beginning.
Lucas has really closed the gap on Sebastian. He now weighs just 1.1 pounds less than his brother (7.5kilos and 8.2kilos) and they are only 0.2 cm apart in length.
It was really great to see some familiar faces at the hospital and have all the ladies in the Follow Up Program scrambling to come see our cute boys. One nurse went running to grab her camera to take some pictures even. Here are a couple from this evening!
Sebastian-L and Lucas-R: Enjoying homemade carrots for dinner.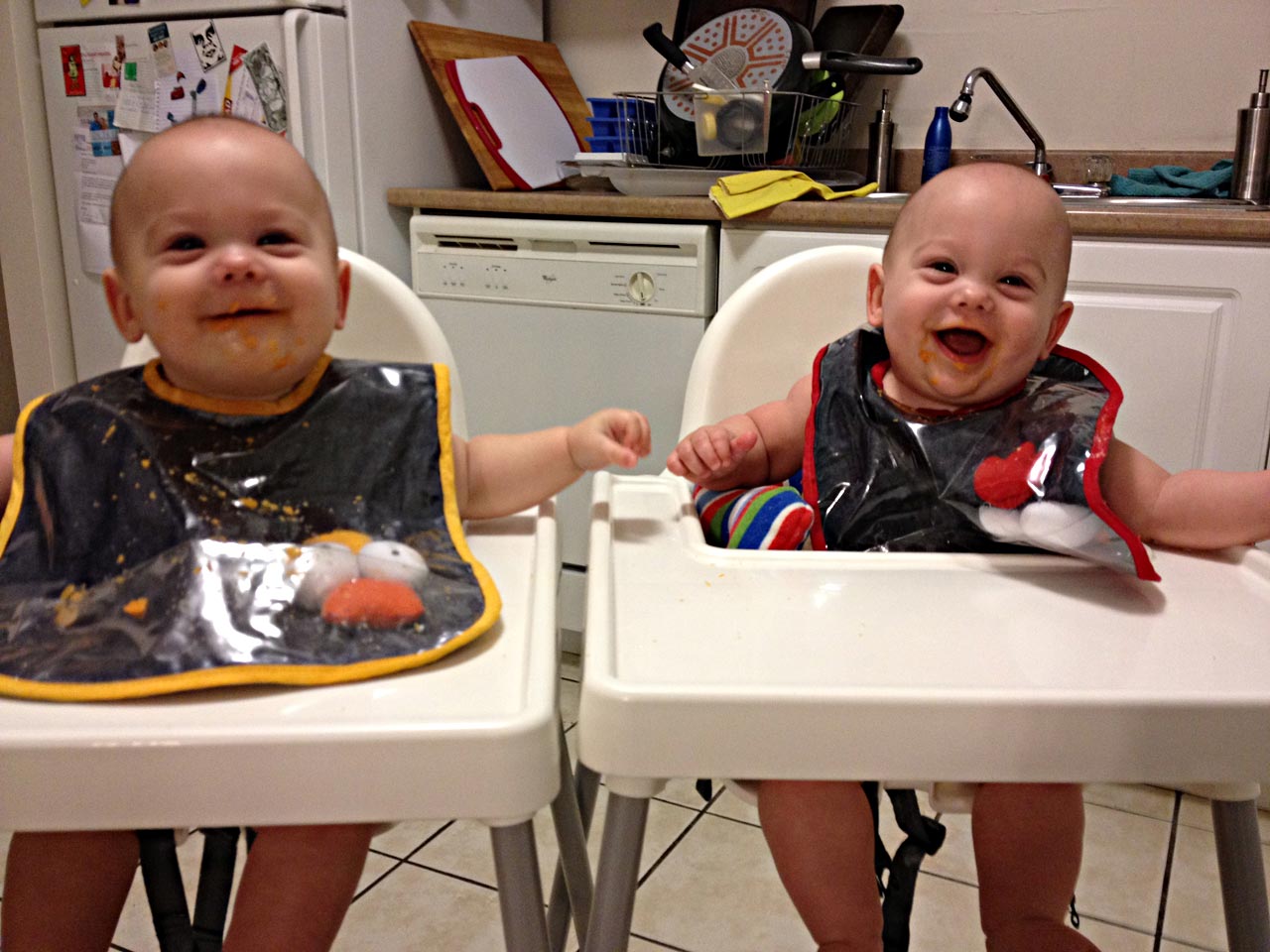 A couple random photos
For those of you itching for photos, here are a few. Newer ones to come…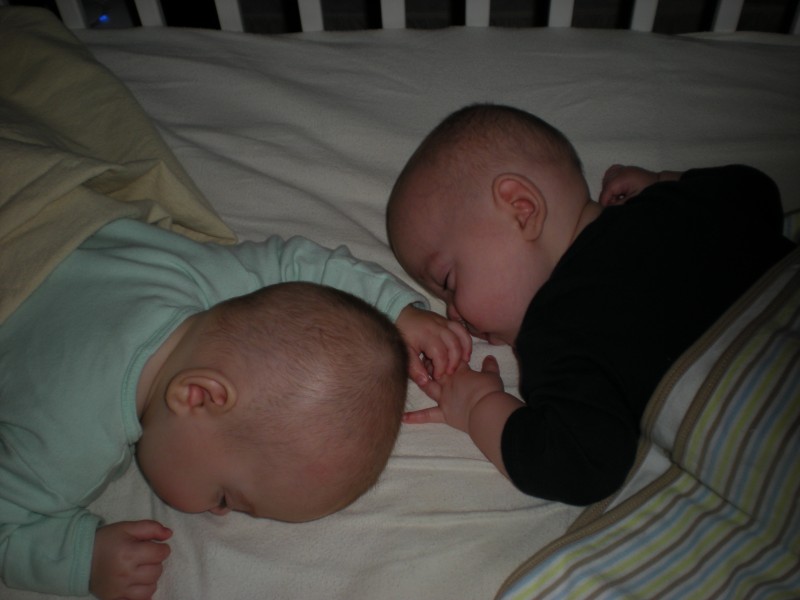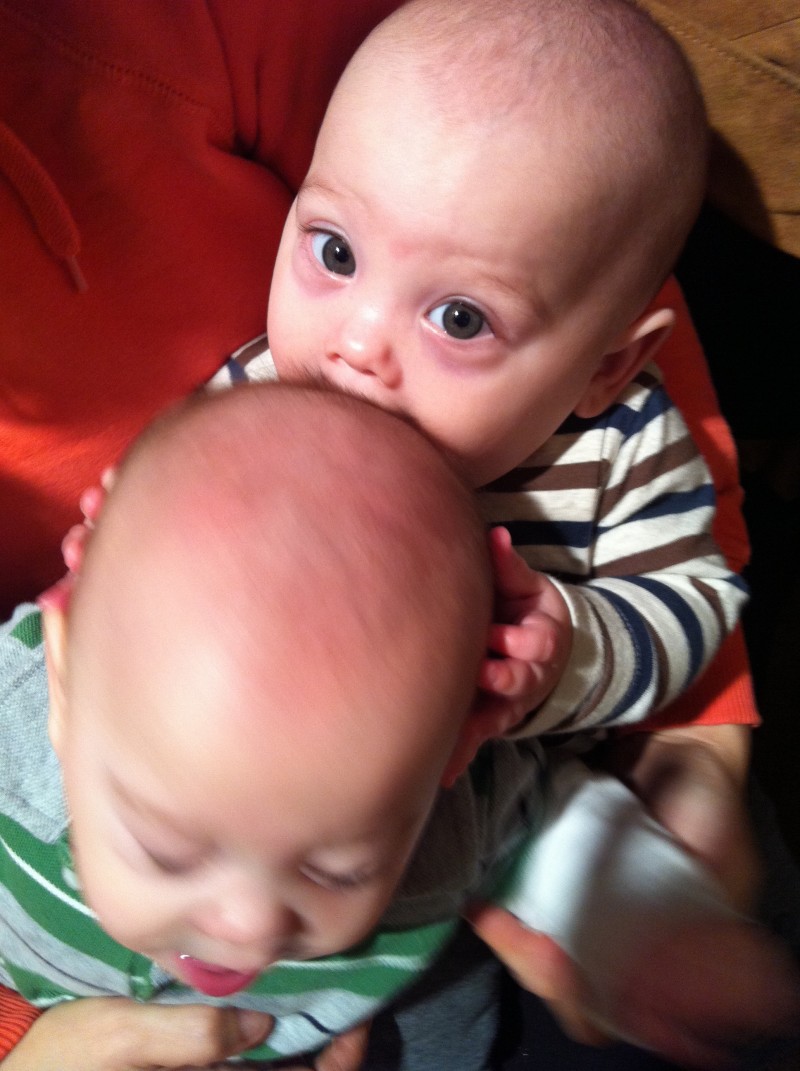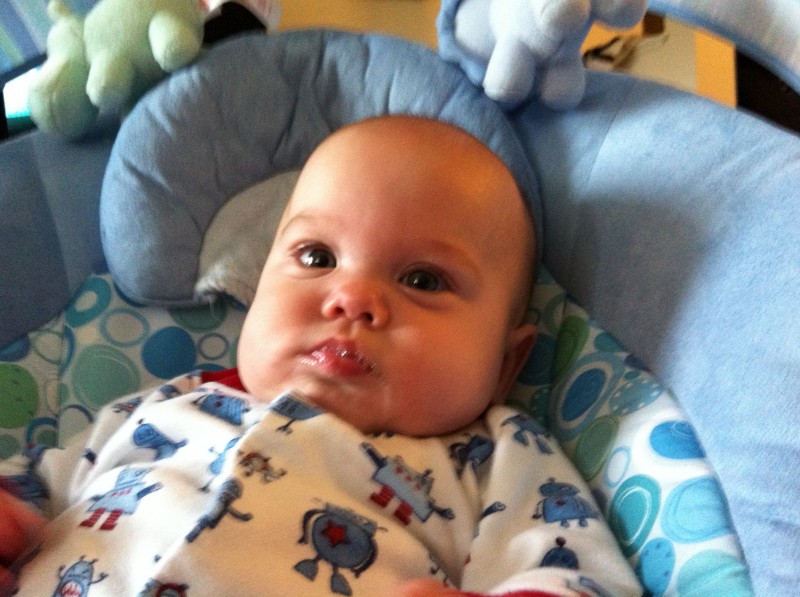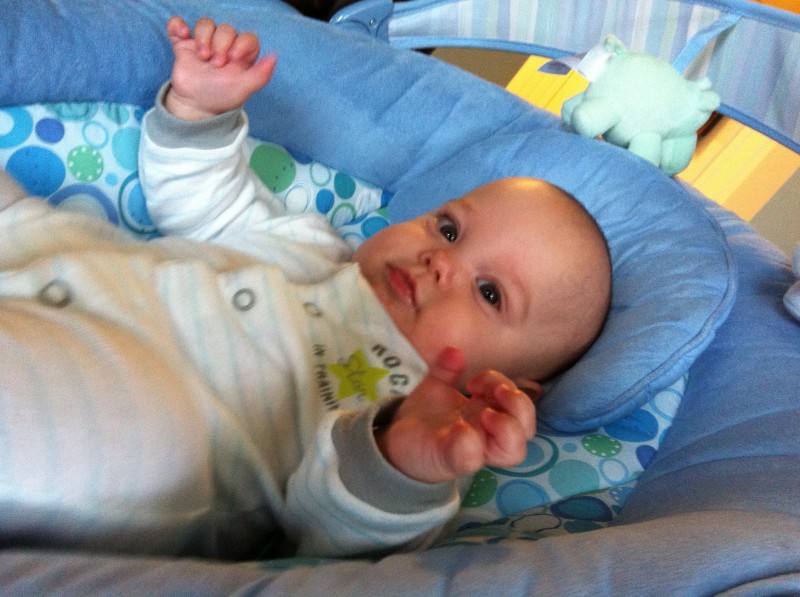 Storytime with Daddy
The boys love to be read stories by daddy. Look how attentive they are.